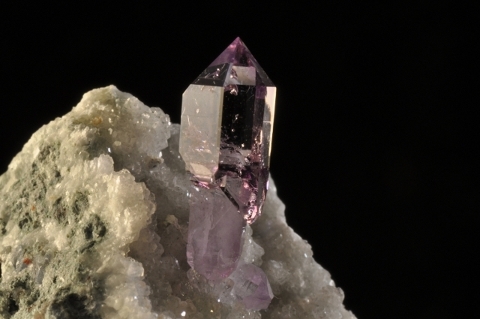 This small specimen of Amethyst comes from the Capurry quarry, close to Osilo, a nice and small village located 10 Km from Sassari, in Sardinia. No doubt this quarry represents one of the most important and interesting localities in Italy from a mineralogical point of view. It is well-known for the presence of many different minerals and, in particular, a variety of quartz characterized by a very light violet colour. In the last two/three years, the dig and research activities carried out by mineral fans and collectors have brought to light some specimens very clear and bright, with a size rather limited (rarely over 2 centimeters), but with a more intense, deep colour.
The Guest Star reported in this brief section belongs to such a limited (and highly sought-after) category. It consists of an amazing sceptre up to 1.7 cm, found by our dear friend Beniamino Pasta (an expert researcher working in the North of Sardinia and well-known among all the collectors) and is now included in the Travaglini collection. In practice the specimen is a thumbnail and measures 2x3x2.5 cm, but the brightness and transparency of the crystal (vertically placed in the heart of a small matrix of chalcedony, with a very pale green colour) are really breathtaking! The shining and deep violet colour and the spectacular geometrical shape of such a jewel prove, on their own, the beauty and attractiveness of the World of Minerals!
Furthermore, I went to Osilo last month and, unfortunately, the recent dig activities in the quarry reveal that the findings of specimens with such a quality are becoming rarer and rarer. Thus, my suggestion to all the collectors who (in the last years) had the opportunity to acquire this kind of specimen is... to hold on them tightly!